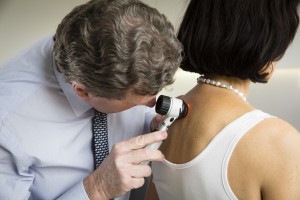 Dr Gillespie treats a wide range of skin conditions.
Links

to Information on some of the most common conditions are below:
---
Dr Gillespie is also experienced in treating a wider range of skin conditions such as contact dermatitis, skin infections and rarer diseases of the skin. Common skin diseases such as eczema, psoriasis, acne and rosacea are seen on a daily basis. The challenge of diagnosing and treating rarer, more problematic skin disorders is welcomed – a referral from your general practitioner is required.
Research into the causes and treatment of common and rarer skin conditions is ongoing. Dr Gillespie is able to advise you of the latest developments in all areas of dermatological research and can implement new treatments as soon as they become available. Dr Gillespie is committed to continuing medical education by his attendance at local and overseas medical conferences and participation in regular clinical and scientific meetings.
Skin cancer affects many Australians, especially (but not exclusively) in their later years.
Basal Cell Carcinoma (BCC), Squamous Cell Carcinoma (SCC) and Melanoma are the most common types of skin cancer. Early detection is important to achieve a lasting cure and Dr Gillespie is expert at detecting cancers and advising on the most appropriate treatment. Surgery is not always a necessary option. Dr Gillespie can also check for suspicious moles and in many cases patients are able to avoid unnecessary operations on benign lesions which can result in unsightly scarring.
If surgery is necessary, then most lesions can be excised in our fully equipped operating room with accredited sterilisation facilities.
---
PDT - Photodynamic Therapy 
Interested in
Daylight Photodynamic Therapy

- read more here... 
---