Chatswood Dermatologist: Dr Rod Gillespie
At Chatswood Dermatologist we provide a comprehensive dermatology service, staffed by Dr Rod Gillespie who has extensive postgraduate experience in the management of skin disease and skin cancer from his years in the public hospital system and in private practice. Find out more about Dr Rod Gillespie.
We are experienced in working with:
Surgical dermatology
Paediatric dermatology
Male and female dermatology
Cosmetic dermatology
At Chatswood Dermatologist we provide the highest quality care and treatment for all skin disorders including:
We will work with your referring General Practitioner to treat your skin condition, please contact our friendly staff to arrange an appointment.


At Chatswood Dermatologist we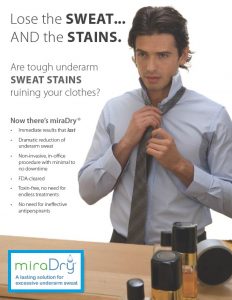 offer the miraDry® treatment for excessive underarm sweating.
You can now reduce excessive underarm sweat with this non-invasive, proven treatment.  
There is little to no downtime after the miraDry treatment – typically you can return to work the next day.

Anti Sweat Injections
We offer the temporary solution to underarm sweating – Medicare rebatable anti-sweat injections.
Laser Treatments

We treat telangiectasia (broken capillaries), rosacea, spider nevus, cherry angioma & venous lake with our QuadStar PRO laser.
Daylight Photodynamic Therapy

Daylight PDT utilises a chemical reaction activated by light energy. Selectively treating solar damage whilst sparing healthy tissue, meaning that side effects like scarring are minimised.
Location: Chatswood Dermatologist is conveniently located in Chatswood Specialist Centre
Chatswood Dermatologist opened its doors in early 2015 with state of the art consulting rooms, brand new facilities and equipment.
We are right in the heart of Chatswood's thriving shopping precinct, a short walk from Chatswood Chase and Chatswood Westfield shopping centres and their ample parking facilities.